Stay informed about this project.
Feburary 2022 update:
A new video showing a timelapse of the construction of the new Eric Tweedale Stadium is now available.
---
December 2021 update:
Council hosted the official opening for the state-of-the-art Eric Tweedale Stadium in November. The $11.3 million stadium has been a benchmark for sustainable construction with a key focus on an intricately detailed timber roof structure which was lit up for an evening of sport, food, and community.
Among those who attended the opening, was the oldest living Wallaby player Eric Tweedale who celebrated his hundredth birthday at the Merrylands RSL earlier this year. In March, Cumberland City Council unanimously voted to name the Granville Park Community Sports Pavilion 'The Eric Tweedale Stadium'. Mr Tweedale's contribution to the game has been instrumental in the development of the local team, Two Blues.
The new stadium is set to generate new levels of interest and excitement from the local community, and offer the local area a range of recreational and community facilities including the premium sportsground and stadium, function room and viewing platform, gym and wellness programs with bootcamp, zumba and yoga.
---
September 2021 update:
We're gearing up to open our state-of-the-art Eric Tweedale Stadium in Granville Park! Thanks to Two Blues Rugby for these awesome pics.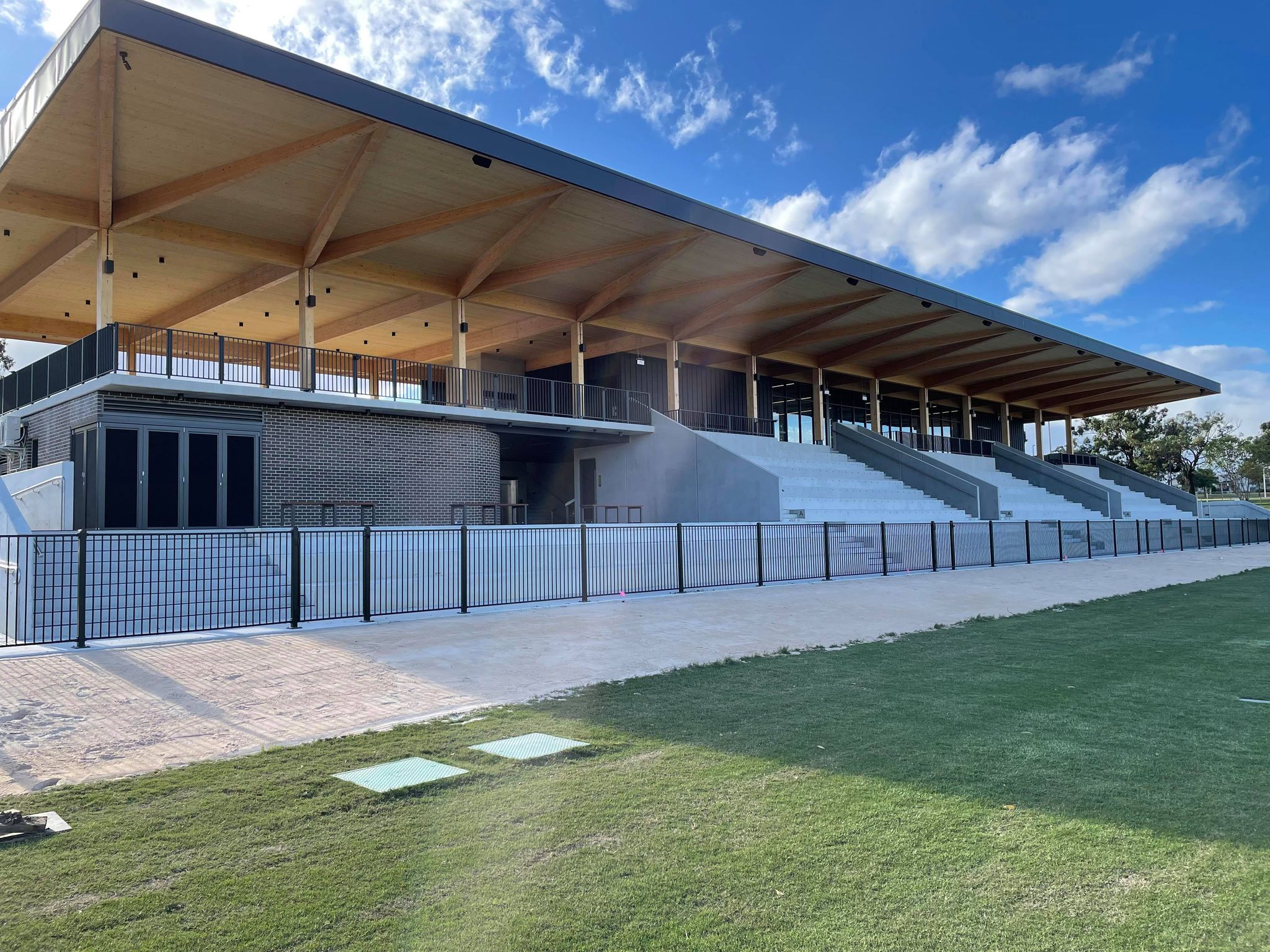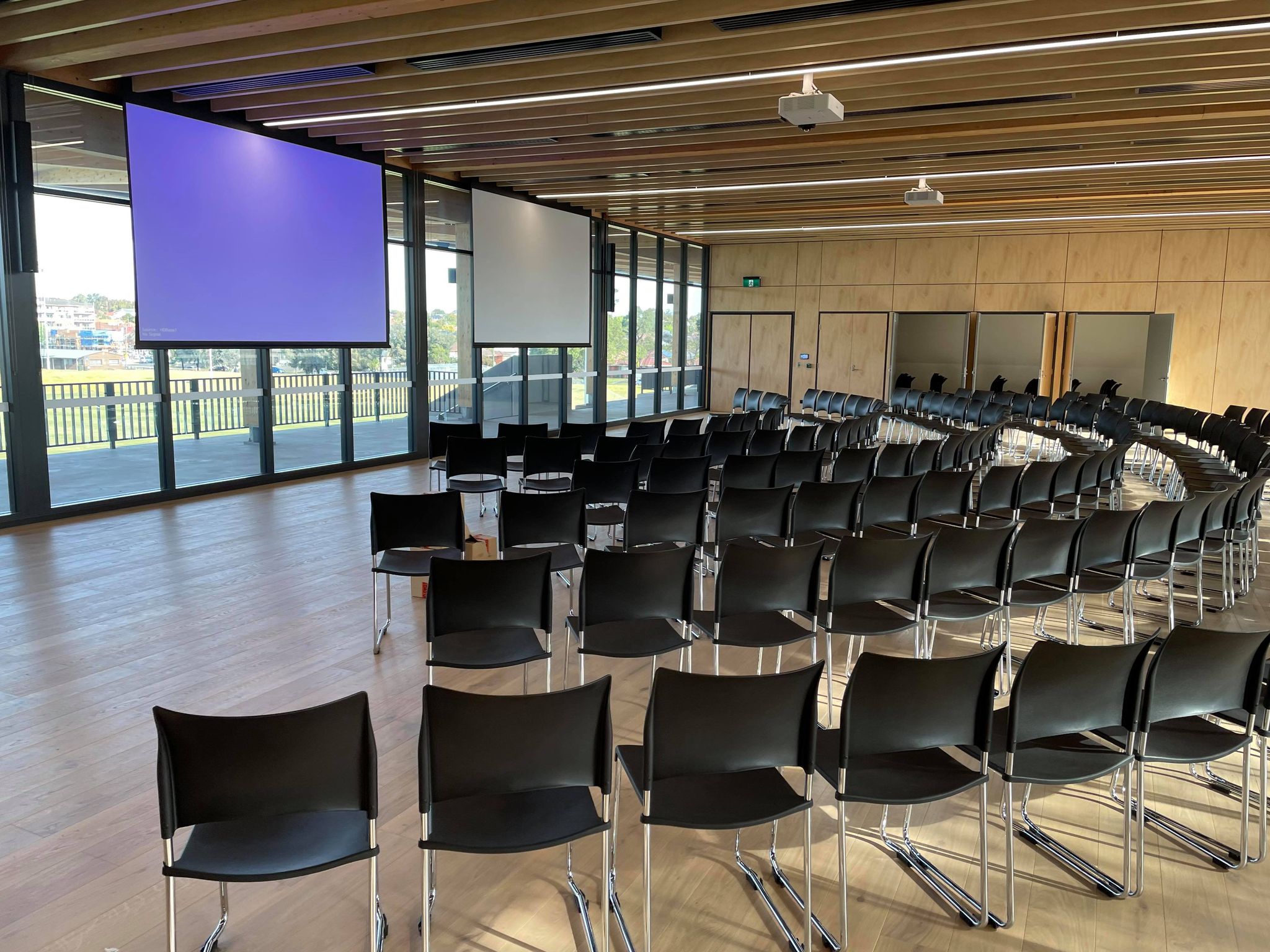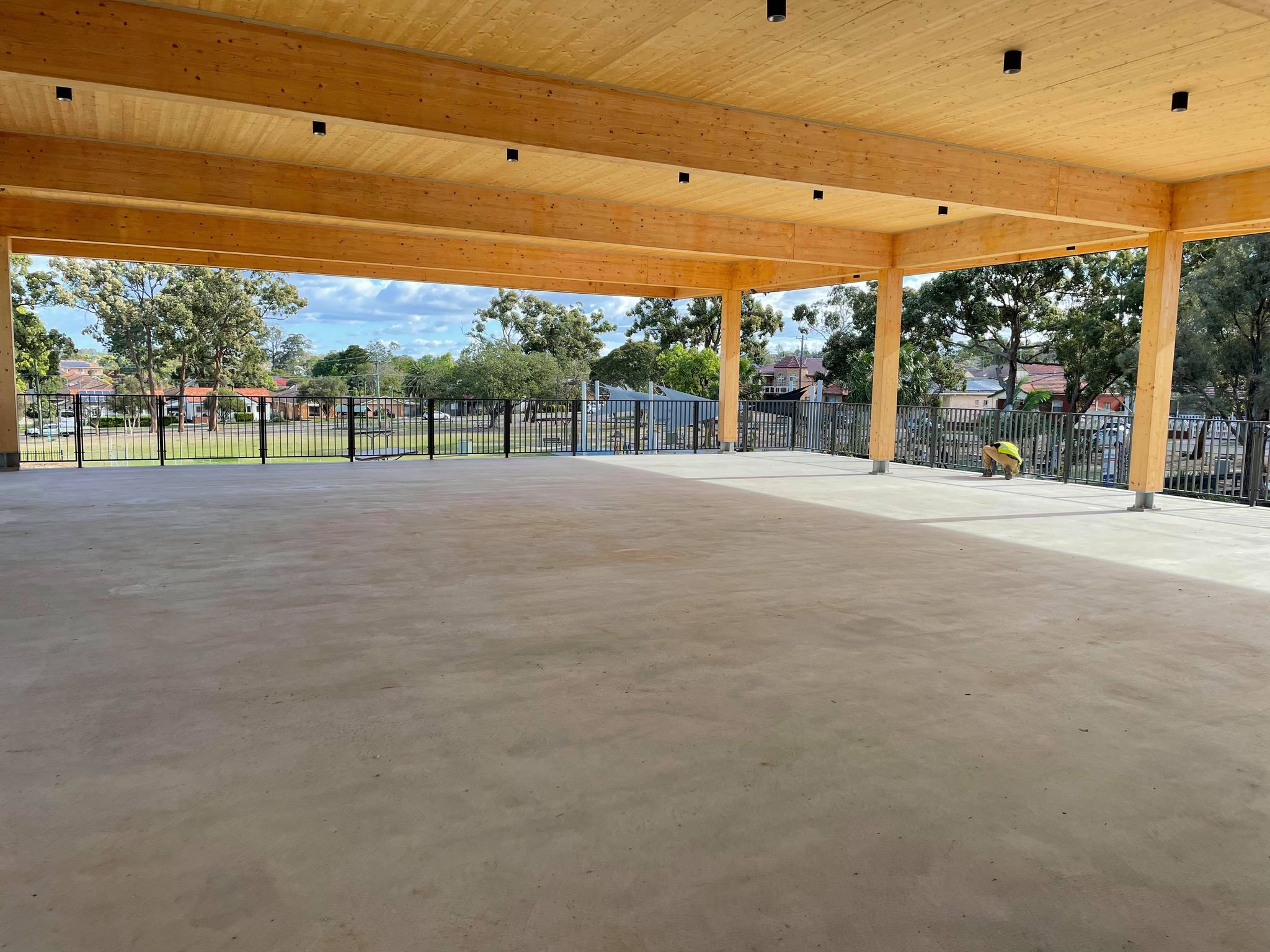 ---
August 2021 update:
In line with the updated NSW Government Public Health Order, work will recommence on the Granville Park Community Sports Pavilion and Field Works site from Monday 23 August. Work will progress following the requirements stipulated for Construction Sites by the NSW Government.
---
July 2021 update:
In compliance with the NSW Government Public Health Order, all work has ceased on the Granville Park Community Sports Pavilion and Field Works site from Monday 19 July. Once the Public Health Orders are updated and work is permitted to restart, the work completion dates will be revised accordingly. We apologise for any inconvenience caused by delays during this time.
---
July 2021 update:
Artist Emily Crockford has been busy painting the new mural at the Granville Park Sports Pavilion. Called 'Stadium Pop: Football Flowers', Emily describes her work as:
A field of grass in the sunrise
Playing rugby in the stadium
Birds dancing on the post
Kick the ball
Tree bushes with football flowers

Feel happy, enjoy the environment, happy with extraordinary colours.
View the images in the Gallery and the Videos of Emiliy painting for more information.
About Emily Crockford:
Emily was born in Sydney, lives and works in Sydney.
'Bold', 'assured' and 'sensual' are all words that describe the work of Emily Crockford. No matter what she turns her eye to – whether it be the natural environment, Australiana or people within her orbit – she transforms it all into a lyrical universe of bold colour and intricate pattern. Bright hues sit alongside areas of fine detail; passionate energy exists simultaneously with areas of contemplation.
Emily has a long exhibition history and has been awarded a number of major public art commissions: a 39m mural for Westpac Banking Corporation (Concord, 2018); two works for the City of Sydney Creative Hoardings Project (Midnight Zoo, 2019 & Sydney Opera House at Night, 2017); a 175sqm collaborative mural for University of Technology Sydney (Bird Life Jungle Disco, 2019); a hoarding for Lendlease at Barangaroo (Garden Pop Bird Bop, 2020); and an 81.5 metre mural for the WestConnex M5 motorway, with Cultural Capital, titled Oysters Eating Rainbows (2020).
Emily was a finalist in the 2020 Archibald Prize with Self Portrait with Daddy in the Daisies watching the field of Planes.
Emily was In Residence for Auburn Arts Studio at Cumberland's Peacock Gallery in 2019. View her full CV in the document library.
---
May 2021 update:
Cumberland City Mayor, Mr Steve Christou, attended the 100th birthday celebration for Eric Tweedale on Friday 14 May, hosted by the Two Blues at Merrylands RSL.
For this event, Council prepared a video in honour of Australia's oldest living Wallaby, to commemorate the event and to note that the Granville Park Sports Pavilion will be named after Mr Tweedale. The event was also attended by Dame Marie Bashir, former Governor of NSW, whose husband was former Wallaby Captain Sir Nicholas Shehadie.
You can view photos of the event in the right panel.
---
March 2021 Update:
Consultation was undertake with the community about Council's proposal to name the new stadium after Eric Tweedale, Australia's oldest living Wallaby. This was supported by the community and adopted by Council in April 2021.
---
June 2020:
Cumberland City Council commenced work on the Granville Park Community Sports Pavilion and field on Tuesday 30 June 2020.
The project is to build a new stadium with function facilities to replace the current structures at Granville Park. The work undertaken includes:
A new grandstand for 750 spectators
Male & Female Home & Away change rooms
Multipurpose room & office
Spectator amenities
Community function room seating 155 people with full commercial kitchen, bar, canteen and a covered viewing deck
Renewal of carparking area to accommodate 127 at-grade spaces (includes associated lighting and stormwater filtration system)
International Standard Rugby Field – reconfigured & reconstructed from the old Granville Park field which now includes; spectator mounds around entire field, LED scoreboard, stormwater drainage, irrigation and LED flood lighting.
The estimated completion date is mid 2021, weather permitting.
The total cost of this project is $13.5 million, funded by the NSW Government (Office of Sport) and Cumberland City Council.

During this time, we encourage you to view the plans for the Sports Pavilion in the document library on this page.
---
If you have any questions about the Granville Park Community Sports Pavilion and field work, please contact:

Maheir El Mohomad
Senior Project Manager
P: (02) 8757 9581
E: Maheir.ELMohamad@cumberland.nsw.gov.au