We want your feedback!
February update:
Consultation has closed on the draft voluntary planning agreement for Fresh Hope Care, Dunmore Street, Pendle Hill, and submissions are now being reviewed. Thank you to everyone who submitted feedback.
---
Council is currently working with the NSW Government to finalise a planning proposal to facilitate redevelopment of Fresh Hope Care, Dunmore Street, Pendle Hill, for a new and expanded seniors housing development with a mix of affordable key worker housing, community facilities, allied health services and publicly accessible open space.
At is meeting of 4 August 2021, Council resolved to prepare and exhibit a voluntary planning agreement to deliver a range of public benefits both on and off-site, including:
a monetary contribution of $450,000 to fund public domain upgrades in the Pendle Hill Town Centre
the refurbishment, ongoing maintenance, and public access and use of heritage-listed Dunmore House
the dedication of four new units to Council to be used as affordable housing
the provision of publicly accessible open space on the site
ongoing maintenance of landscaping, public footpath linkages and public furniture in the publicly accessible open space.
You can view the proposed site below: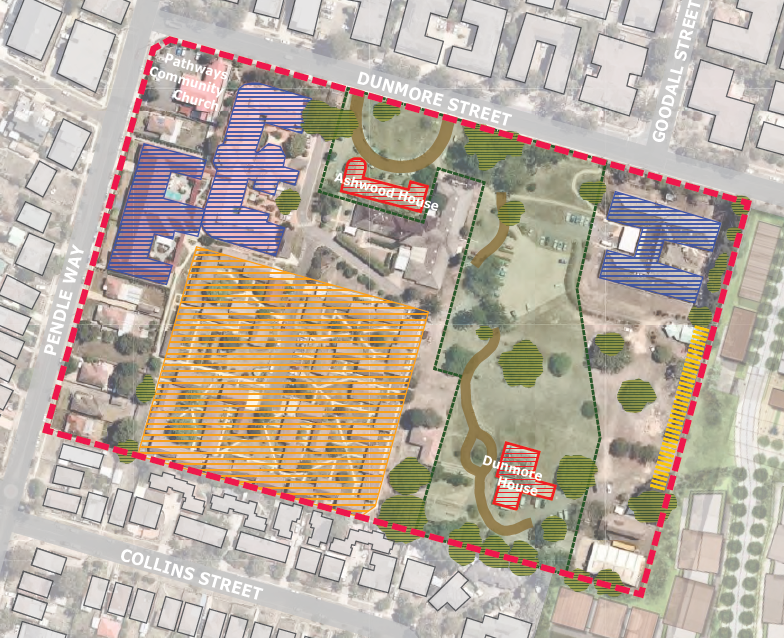 The draft voluntary planning agreement is on exhibition from Tuesday 14 December 2021 to Friday 11 February 2022.
We encourage you to view the exhibition material in the document library on this page and have your say.
---
To Make A Submission on the Proposal:
Submissions concerning the above proposal are to be made by Friday, 11 February 2022.
There are three ways you can lodge a submission:
Complete an online submission below.
Email it to Council@cumberland.nsw.gov.au
Post it to The General Manager, Cumberland City Council, PO Box 42, Merrylands NSW 2160.
If you have any questions about this project, please contact:
Sarah Sheehan
Coordinator Environment and Planning Systems
P: (02) 8757 9947
E: Sarah.Sheehan@cumberland.nsw.gov.au
Join the conversation and have your say